Note: I made some revisions to this article after talking with Schoenfeld about the piece. For a full explanation scroll to the end.
The New York Times published an article on the success of the Golden State Warriors. The story touched on Steph Curry transforming himself from a borderline All-Star to the best player in the league. It glossed over Draymond Green reinventing the power forward position and how Head Coach Steve Kerr convinced David Lee, a former All Star, to take a back seat and allow Green to flourish.
Instead it primarily focuses on Majority Owner Joe Lacob. With the exception of four paragraphs on Jerry West,  Bruce Schoenfeld spends the vast majority of the piece crafting a narrative that suggest that Lacob, and his venture capital ways, are responsible for the success of the once hapless Golden State Warriors. "He is the first to operate one according to what might be called Silicon Valley precepts," Schoenfeld writes, "Nimble management, open communication, integrating the wisdom of outside advisers and continuous re-evaluation of what companies do and how they do it."
I don't think anything Schoenfeld writes is factually wrong. In fact, he corrected me on a rumor I thought was verified, but I do think that he started with his thesis (Look at how great VC and Silicon Valley is!) and backfilled the article to fit. If you're a writer working on a profile piece it's easier to do this than focusing on the cultural and environmental trends that run in our country. Those are complicated. Those are messy. Those are hard to pull off.
The story sightly reminds me of the fawning pieces surrounding Theranos, a start-up blood testing company that most profile writers fawned over. Theranos was a story ripe for this type of treatment. It featured a young and female entrepreneur who built a $9 billion company in male dominated world. Writers got to use words like "innovation" and "disruption", while examining the very real glass ceiling females face. The only issue was that Theranos's product doesn't work.  If the WSJ and FDA are to believed, the entire company is a fraud.
The article falls into a similar trap, but instead pumping up a fraudulent product, it pumps up the virtues of the VC mindset. He writes about logical basketball decisions, as if Lacob was the first person on earth to figure out gravity. In doing so the piece falls into a trap that is all to common when covering Silicon Valley: it creates a King out of the person on top, while ignoring the larger root causes or trends.
I've taken the two assertions about Lacob's tenure and provided some context below.
Lacob's front office hires weren't revolutionary
One of the piece's central arguments is that Lacob is a Venture Capitalist who often makes large investments in industries he doesn't often know much about. He is able to succeed because he is fantastic at management and hires the right people (often times these people are unconventional) and structures the oversight in a way that breeds success. Schoenfeld describes the results of their innovative approach (emphasis mine):
They hired a general manager who had never worked for a team before, let alone run one, and two coaches who hadn't coached at any level. At the time, these moves were perceived around the league as rookie mistakes. But Lacob was no rookie, not at building companies. And it turned out that they were not mistakes."
Let's break down the two major hires that Lacob made: Head Coach Steve Kerr and General Manager Bob Myers.
Steve Kerr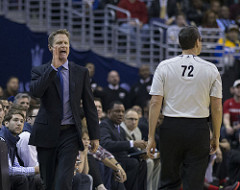 Kerr was the most sought after coach in recent NBA memory. He spent the bulk of his career mentoring under Phil Jackson and Greg Popovich, two of the top three coaches in NBA history. After that he became GM of the Phoenix Suns. His experience and demeanor made him the leading candidate for the Lakers, Knicks, Warriors and Jazz positions. There was so much interest in him that ESPN commentator Stephen A. Smith actually wrote an article titled, "What makes Steve Kerr so special?" In it, he asks, "What the hell has Steve Kerr done to deserve multiple dabs at the cookie jar?" To put it another way, people were confused to why so many owners wanted to hire Kerr.
So yes, it is true that Kerr lacked any coaching experience. But hiring him wasn't an unorthodox move. In fact, it was the move four other owners wanted to make, none of which come from the hallowed world of venture capital.
Note: Schoenfeld clarified that he brought Kerr up to illustrate "that Lacob tinkered w/ success in a way you rarely see in sports." Lacob had the courage to fire Mark Jackson, a moderately successful coach with a large rolodex of media allies. I'd agree that it took courage, but I'd counter that there are probably 10+ examples of this happening in recent memory: Dungy to Gruden, Renteria to Maddon (Renteria helped turn the Cubs around only to be fired when the most competent coach in MLB became available…)
Bob Myers
Myers spent 10+ years working under the current President of the Detroit Pistons, Arn Tellem. Prior to running the Pistons, Tellem was arguably the most powerful agent in NBA history. The Sporting News listed him as the most powerful agent from 2003-2006. Sport's Agent Blog called him Tellem's right hand man. In his 14 years working under Tellem, Myers negotiated more than $575 million in contracts and left to become an Assistant GM for the Warriors. Sports Business Journal named to the 40 under 40 list. He held that post for one year before he was promoted.
So yes, it's true that Myers had never run a team before, but he did have 10+ years negotiating contracts under an icon of the industry and a year working as an assistant GM. Oh, and agents jump from client side to team management all the time.
Note: Schoenfeld asserts that 15+ front office people he spoke with stated Myers was an usual hire. Also, in case you are wondering, he has 30 years of context.
Luck matters in basketball.
My biggest issue with this piece ascribes very little of the Warrior's success to luck or good fortune. Their opponent in the NBA Finals lost two of their top three players to injuries during the playoffs. No one predicted Steph Curry would become the best player in the league–in fact, there are ample rumors that the Warriors made him available for trade in 2011-12. No one thought Draymond Green would redefine the power forward position–or else he wouldn't have been a second round draft pick.
The idea that their success is the sole result of strategic decisions based by a "venture capital" mindset is silly–and it is the central premise of the article. Lacob undoubtably believes in the great man of history myth. MIT Technology Review summed up the danger in that mindset, "great-man myths threaten to undermine the structure that is actually necessary for future innovations."
No where is this more evident than the description of non-VC owners, specifically Chicago Bull's owner Jerry Reinsdorf (emphasis mine)
The Chicago Bulls amassed six N.B.A. titles with Jordan. But Jerry Reinsdorf, who bought the franchise in 1985, hasn't won since the last of those titles, in 1998. (He also has owned baseball's Chicago White Sox since 1981. The White Sox won the World Series in 2005 but otherwise have performed unmemorably.) Whatever magic Reinsdorf used to create the Bulls dynasty in the 1990s presumably remains at his disposal, yet the team has cracked .500 in just seven of the 17 seasons since Jordan departed. The determining factor there seems easy to identify."
Schoenfeld is saying that without Jordan, Reinsdorf would be remembered as a middling owner. Never mind that Lacob lucked into Curry. We're to believe that his VC business ability will allow him to avoid the trap Reinsdorf fell into and make even more money and win more championships. This is fairly crazy assertion in aggregate, especially the money aspect. Yes NBA teams are rolling in money, but it isn't just the Warriors. According to Forbes, "NBA franchise values have tripled over the past four years."  The reason has nothing to do with anything one owner is doing and everything to do with a new television deal and international expansion.
If you aren't familiar with basketball and look at the facts that he provided, you may believe that Reinsdorf is a poor owner who lucked into Jordan. Finishing .500 seven times since Michael Jordan retired isn't great. But if you follow basketball, you realize that this analysis is incorrect.
Yes, Schoenfeld is correct in arguing that the Bulls struggled after they lost Michael Jordan, Scottie Pippen, and Phil Jackson. Any franchise would struggle after losing one of the most versatile players in league history and arguably the best coach and player of all time. But any NBA fan knows that the Bulls were legitimate NBA title contenders from 2010-2014.
Here were the Bull's record during that time, a time that Schoenfeld alludes to as a failure:
| Year | Wins | Losses | Percentage |
| --- | --- | --- | --- |
| 2010 | 62 | 20 | 76% |
| 2011 | 50 | 16 | 76% |
| 2012 | 45 | 37 | 55% |
| 2013 | 48 | 34 | 59% |
| 2014 | 50 | 32 | 61% |
Not convinced? At the start of the 2011 NBA playoffs Vegas pegged the Chicago Bull's championship odds at +350, behind only the eventual champion and runner-up Miami Heat and Oklahoma City Thunder. The next year they started the season as the third best odds to win it all. Last year, the year the Warriors won the title, Chicago started the season with better odds to win the NBA Championship.
Does this look like a mismanaged team, dependent on Michael Jordan? No. It's not. In fact, it looks like one of the better run teams in recent memory. The difference is that the Chicago Bulls were unlucky. They saw their championship hopes dashed because their young MVP guard became raddled with injuries. Meanwhile, the Warrior's young guard overcame injuries to become the league's MVP.
That's how sports work.
In conclusion
All evidence points to Lacob being a very good professional basketball owner. In fact, you can certainly argue that he's one of the better owners out there. However, the Warriors success probably has very little do with him, and even less to do with narrative Schoenfeld's presents of VC supremacy. Lacob bought a team in a rising league, who happened to have one of the best players in NBA history. Don't believe me? Let's hear from Head Coach Steve Kerr, the guy Schoenfeld claimed was an unconventional hire driven by Lacob's brillance, despite being offered jobs with four other teams:
"We're getting so much praise, our organization," Kerr said. "We deserve it. And we have wonderful people starting at the top with Rick and Joe Lacob and Bob Myers. Our coaching staff does a great job. Our entire organization does a great job. And you know what that would mean if we didn't have Draymond (Green), Steph (Curry), Andre (Iguodala), Klay (Thompson) and the rest of the guys? Nothing. Honestly. Literally, we are where we are because of our players."
Images via Flickr: Main, Side, Bottom.
Note:
The original article was much more aggressive towards Schoenfeld. I questioned his research and did everything short of calling him a hack. After communicating with him I realized I was wrong. I disagree with a fair amount of his conclusions, but it's unfair to criticize his integrity without proof. His article merely quotes Lacob (who seems completely out of his mind) and adds his own personal context. I've adjusted the text to focus more on the false narrative I believe he creates–instead of petty attacks. I appreciate him addressing my criticisms head on, even though he never attempted to clarify anything around Chicago.