I'm sure most people reading this have heard of LaCroix, a sparkling water brand owned by National Beverage. It's an undisputed leader in the sparkling beverage category. Led by smart marketing and forward-looking management, the colorful cans are a bright spot in an otherwise declining aisle. Despite almost a decade of positive results, not everything is sunshine and roses in the land of fizz and refreshment. In the fall of 2019, Businessweek published a cover story on the rise and recent stumbles of the company — most notably around management's decision not to provide additional sales support to retailers.
National Beverage's management believed that LaCroix wasn't just a brand that added a bit of flavor to carbonated water, but one whose "innocence" and targeted marketing propelled it to the top of the segment. By not acceding to the sales demands, the company decided to play chicken with the most powerful group in the retail industry: retailers.
Now that some time has passed we can begin to analyze: Did National Beverage's game of chicken work? Was the LaCroix brand as powerful as they thought? Before we answer that question, it's best to look at how it went from a third-tier soda company to the sparkling water leader.
Reinventing LaCroix
In 1982, Heileman Brewing Company founded LaCroix in La Crosse, WI, as a mass-market alternative to premium European sparkling water brands. About ten years later, it sold the modestly successful brand to National Beverage, where it languished for a few years. This isn't exactly scientific, but I went to college in La Crosse, and I don't remember a single person under the age of 65 drinking it. Suddenly, ten years later, LaCroix is one of the most millennial centric food brands in America.
What happened?
When customer preferences change
Within the consumer goods world, sparkling water is categorized as a "sparkling beverage." Giants like Coca-Cola and Pepsi have long dominated the category with sugary drinks like soda. If you are health conscious, for generations, a walk through the sparkling beverage aisle felt like being surrounded by a bunch of explosives. The explosives had super long fuzes, but each time you pulled a product from the shelf, the inevitable health catastrophe inched closer.
In the past few years, the risk is now out in the open. Sugary drinks have been linked to everything, from diabetes to poor bone health. Soda, the sales anchor of the category, now faces an existential decline. Almost two-thirds of Americans actively avoid drinking it. "The drop in soda consumption," Margot Sanger-Katz wrote in the New York Times, "represents the single largest change in the American diet in the last decade."
LaCroix is located in the same aisle as soda. Most importantly, with zero calories, it doesn't have a fuze.
Businessweek detailed how the transition wasn't an accident:
In 2006, Beverage Digest released a report showing that soda sales in the U.S. had declined for the first time in two decades, as consumers grew concerned about obesity and Type 2 diabetes. That year, LaCroix staked out an early position as a health-conscious alternative to soda, becoming a sponsor of the Susan G. Komen Breast Cancer Foundation.
In hindsight, this was a risky move. Implicit in the branding was pulling demand away from sugary drinks and into sparkling water. There was one problem. National Beverage's most significant brands were Shasta and Faygo — two sugary drinks. "I would say to him [CEO Nick Caporella], 'It's great to be behind it a hundred percent," a longtime executive told Businessweek, "but we should remember to dance with the one who brung us. This company was built on soft drinks."
Caporella made the gutsy decision to cannibalize existing sales.
In the meantime, a small team of executives quietly began working to revitalize LaCroix. They decided to market it as different from both elegant mineral waters and sugary sodas, aiming squarely at diet soda drinkers. The company expanded LaCroix's distribution outside its traditional regional markets and into major retailers such as Target and upscale national grocers like Whole Foods that would prominently feature the product. By 2013, National Beverage was touting "double-digit volume gains" for LaCroix.
Perhaps most impressively, the company did all of this without a massive traditional marketing budget. It didn't create a single expensive advertisement with a celebrity spokesperson. Instead it gave away coupons on social media to a variety of influencers.
The brand has specifically turned to Instagram, Alma Pantaloukas, the brand's former digital strategist, says on her LinkedIn profile. LaCroix looks at the platform to engage with "highly engaged millennials" and "to inspire them to use our products in many different ways and/or stages in life," she says. It was this focus that turned Instagram into its most engaging platform, growing its fan base from 4,000 to 30,000 within eight months in 2015. (It now has 39,000.)
One tactic is engaging with people who tag the brand, no matter their follower counts. One marketing pro, Kelly Fox, posted a couple of photos with LaCroix cans for her 2,500-plus followers this month and tagged the brand. The brand then sent her vouchers for cases of LaCroix.
"I know that I am being genuinely rewarded for being an advocate, and am not going out there posting on behalf of every other brand like some of the large influencers with huge followings," said Fox. "It's a smart strategy for the brand to go after the smaller fish instead of the bigger fish."
If you think about the six core business processes within a CPG company, LaCroix excelled at four of them.
Research and Development: LaCroix targeted flavors at diet soda drinkers. It originally had 6 flavors; it now has 27.
Production: National owns 12 production facilities. It could quickly bring new choices to market because it did not have to negotiate with independent bottlers around new products or expansion needs.
Transportation: National's existing transportation network featured delivery to retailer warehouses and directly to stores (DSD). It could expand its product to more stores, because it could get LaCroix to almost any retailer at an affordable cost.
Marketing: A targeted social media campaign generated consumer demand in a cost-effective way.
Put together, the four redirected a niche segment into the mainstream within a category dominated by giants. Against all odds, a once-sleepy regional brand became a category leader in 41/52 metro areas.
Pepsi and Coca-Cola strike back
LaCroix's success did not happen in a vacuum. The CPG world is intensely competitive and filled with smart people. When a new item at the grocery store sees double-digit volume growth, it becomes a fire in the middle of a field. Everything and anything focuses on it.
Again, Businessweek
PepsiCo Inc. released Bubly, a sparkling water backed by a marketing arsenal that LaCroix has struggled to match. In 2017, Coca-Cola Co. paid $220 million for Topo Chico, a Mexican mineral water with a cult following. Meanwhile, a legion of startups has rolled out "craft" sparkling water brands that promote artisanal ingredients, antioxidant boosts, and cannabidiol infusions. LaCroix's sales for the four weeks ended July 14 fell more than 15% from the prior-year period, even as its main competitor, Bubly, saw sales surge 96%, according to Bloomberg Intelligence.
All of this competition impacted LaCroix. Sure, LaCroix had to respond to new threats to consumers, but it could handle that through its innovative use of social media. The real challenge was with retailers. They want to buy what will sell. For a decade, LaCroix was more or less the only branded sparkling water option. Now there were dozens. Perhaps most troublesome for National Beverage is that retailers don't care who started the fire in the field, they just want to keep it burning.
The complicated relationship behind grocery aisles
Retailers and manufacturers have a complicated relationship. Publicly, both sides will say that they're partners — working together to make and sell consumers the products they want. In theory, retailers need vibrant manufacturers who create products consumers want to get people in stores. Manufacturers lack a physical store footprint, so they need retailers to sell their products to consumers.
Initially, the relationship was simple. In the early 1900s small corner stores dominated the industry. Given America's rudimentary transportation network, it wasn't practical for manufacturers to deliver to each street corner. Instead, a manufacturer like National Beverage sold to a Broker (who took a percentage of the sale) and delivered the product to a retailer. Over time, retailers got bigger and bigger. Led by A&P, the Walmart of the era, the relationship changed.
In his book, The Great A&P, Mark Levinson explained what happened next:
A&P demanded that manufacturers give it advertising allowances in return for promoting their products nationally in whatever way it saw fit. Manufacturers were to sell directly to A&P without using brokers or agents, and A&P would receive the commission normally paid to brokers. If a manufacturer refused to play by those rules, A&P would take its business elsewhere. As the Hartfords [Management] anticipated, allowances became a major source of income. By 1929, allowances paid by manufacturers directly to A&P headquarters accounted for one-quarter of pretax profits.
In modern times, this activity is called Trade. The advertising allowances that A&P pioneered have grown to everything from bulk discounts and prime shelf placement to end-of-aisle displays. Trade is a vital part of any CPG company's sales process. The companies are willing to make the investment because a) they don't have a lot of choice and b) many trade events are almost a sure thing to generate sales.
That overall cost is huge. Outside of the cost of producing a good, Trade is often the largest line-item on a company's income statement. A typical CPG firm will spend between fifteen and twenty percent of gross revenue on Trade spend every year — with hyper competitive categories spending upwards of thirty percent. For a company of National Beverage's size, that's potentially tens of millions of dollars transferred directly from their pockets to the retailer's bank account.
As I said, the relationship between retailers and manufacturers isn't exactly a partnership. It's complicated.
Pepsi and Coke entered the category, armed with hundreds of millions of dollars ear-marked for trade spending. Retailers wanted National Beverage to match the spending. LaCroix management had a choice. They could defend their shelf space with additional spend or withdraw from the arms race and bet on the value of the brand. "In a beverage industry that is dominated by the "cola giants"," the company wrote in its most recent annual report, "We pride ourselves on being smaller, faster and stronger."
In this case, smaller, faster and stronger meant no increase in Trade spend. There would not be an arms race.
Businessweek explained what happened at Whole Foods:
The company wanted LaCroix to be more aggressive with matching discounts and promotions being offered by the new brands. When the company didn't yield, Whole Foods eventually decided to reduce the number of prominent in-store LaCroix displays and replace them with its competitors', according to people familiar with the decision. A Whole Foods spokesman declined to comment.
Category goes up, LaCroix goes down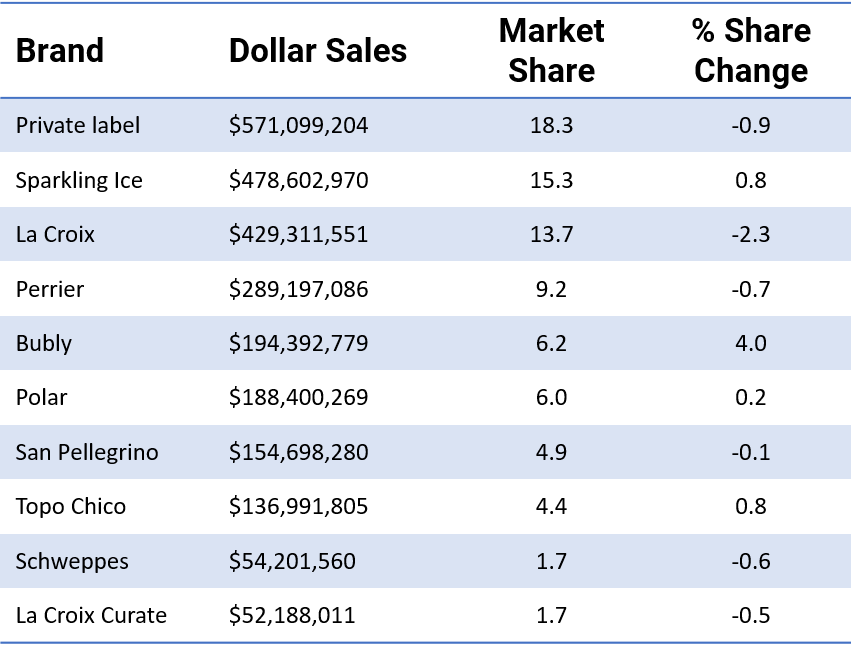 National Beverage does not break out individual brands on their income statement, but from a high level, the numbers don't look good. According to Businessweek, the decision to not enter an arms race happened in 2018. Most trade agreements are made annually. Any impact wouldn't be seen until 2019.
The numbers aren't pretty.
In 2019 the company's net sales growth submarined from double digits to under four. This happened while retail data provider IRI estimated that the sparkling water segment saw an increase of about 13 percent. According to IRI's calculations, Bubly, backed by Pepsi and millions of dollars of Trade spend, grew 216 percent.
I think it's clear that the LaCroix brand wasn't as powerful as executives thought.
CPG retail is an unforgiving place for manufacturers. The LaCroix experience shows that generating consumer demand isn't enough — even if it's individualized and targeted. Redefining a category isn't enough — if companies don't accede to future trade demands.
The real battle is over sales and shelf space — one that small brands are increasingly in a weak position to win.
Photo by Matt Botsford on Unsplash
Did you like what you read?
Subscribe to my mailing list and get interesting CPG and Retail writing directly to your email inbox.
Thank you for subscribing.
Something went wrong.